Artist : Garimaa Kejriwal 
I'm Garimaa Kejriwal a 17 year old student studying in Modern High school for girls. Sitting down to paint whenever i get time gives me an escape from the daily routine and it is something i love to do!
Artist : Kazi Mazharul Islam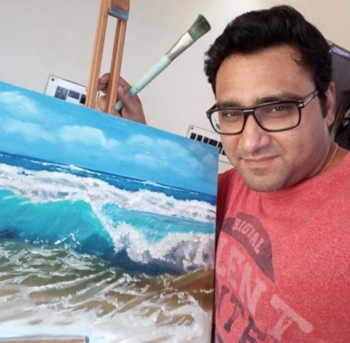 I was interested in painting, art, and crafts from my childhood and never missed any sit & draw contest in my school days. I was a student of Calcutta Art Home at Anandapalit, CIT Road Kolkata. Later due to family pressure and financial crunches I could not pursue my dream to become a professional painter, but the painting had always been my passion. Now, whenever I am stressed or depressed I just take out a canvas and start painting. I don't know whether I have the right age to take up painting seriously again, but definitely, through painting, I find the real me.
Artist: Tvisha Sharma
 Hello everyone,
This is Tvisha Sharma, I started my art from a very early age but growing up with art was not that easy, it was quite a bit difficult in the beginning. As others say it's a mixture or combination of lines and colors.
It is a feeling, and imagination that gets built up with precise strokes and effects.
Art gives me the power to imagine and with art, I think that I can change the world.
With some strokes and shades, everyone can make a change.
Art is not a subject it is the very YOU.
Artist: Aashna Mehra
My mother is the root inspiration for me being addicted to art.
She always said let that 'let colors release your feel-good hormones'… and it worked.. every time i was stressed or needed a break or had any free time, i started to just paint irrespective of how good i was at it. Painting became my safe escape when needed for a bit because it simply makes me happy.
I'm a 24 year old lawyer, working all day doing what i do and art creates that peaceful balance in my life where i can be silent, more connected with just myself, observe and feel positive.
Artist: Deep Jyoti Saha
Deep Jyoti Saha is a self-portrait artist with prowess in portrait paintings. He has participated in many exhibitions like the Academy of Fine Arts in 2009, Indo-Russian Cultural Exchange Painting Exhibition in 2019. His paintings stand different from experiments like – installing watches on canvas or creating real smoke effects. Not only painting he makes crafts with various scrap materials.